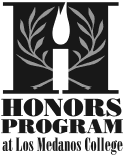 Application
We are now accepting applications for Fall 2011. Please download the application and fill it out completely. Applicants who are 1st time Los Medanos College students need to attach their high school transcripts before a decision can be reached. You may mail your application to the Honors Program, drop it off in the Honors Center or put it in the LMC inter-campus mail for Honors Director Jennifer Saito.
Applicants will be notified of their admission status by e-mail.
Application Essay
New for the 2011-2012 academic year is a required two-page essay that should accompany your application. Your essay should be of the highest academic quality and reflect your best writing and thinking abilities. Please note that you get to select the topic from one of the following two choices:
1. Honors Students are distinguished by their intellectual curiosity. Tell us about an idea or an expereince you have had that you find intellectually engaging.
2. Honors Courses will expose you to challenging new concept, more than you might find in regular classes. Tell us about a time you encountered a new idea that challenged what you previously believed or thought. What has been your response to that challenge?
Contact Information: Honors Director Jennifer Saito at (925) 439-2181, X 3369 or Honors Counselor Phil Gottlieb x 3382